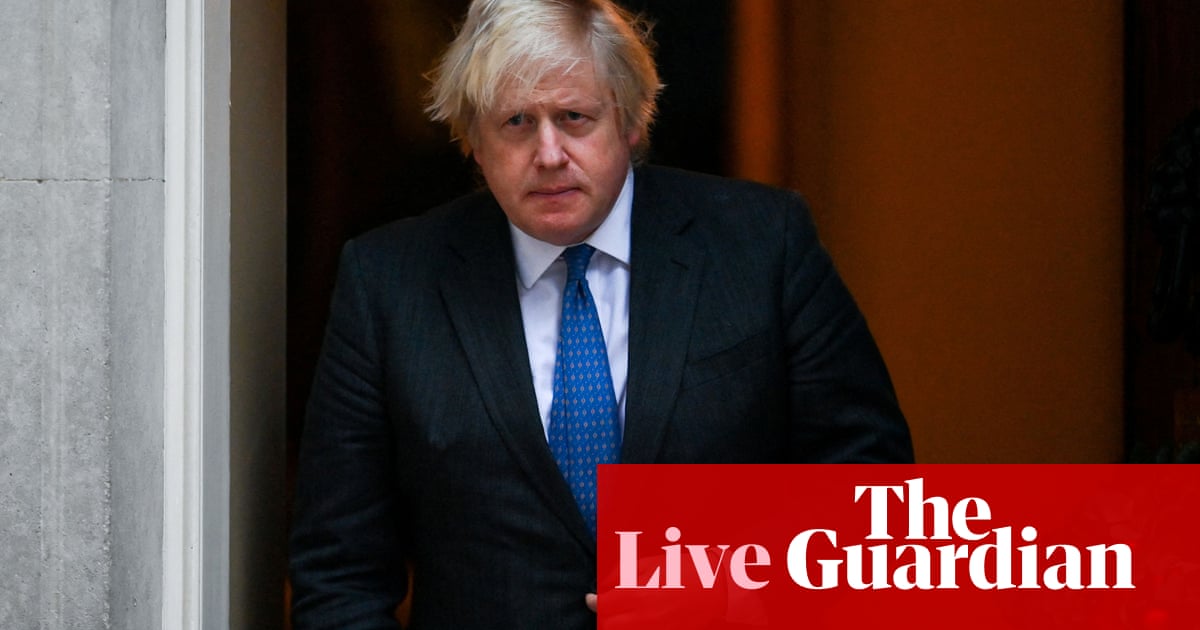 No 10 has apologised to Buckingham Palace for two parties that took place in Downing Street on the eve of Prince Philip's funeral last year, Boris Johnson's spokesman has revealed.
The Daily Telegraph reported that two separate leaving parties, for former director of communications James Slack and a government photographer, were held on 16 April, with drinking continuing into the early hours.
The prime minister's spokesman said:
It's deeply regrettable that this took place at a national mourning, and Number 10 has apologised to the Palace for that.
He declined to say whether Johnson would personally apologise to the Queen at his next private audience with her, but said the prime minister recognised the public's "significant anger," about lockdown-busting social events.
The monarch mourned alone at her husband's funeral, because Covid rules at the time prohibited indoor mixing.
More to follow: No 10 apologises to palace over parties on eve of Prince Philip funeral
The chief executive of Sheffield City Council, Kate Joseph, has admitted she attended a drinks gathering at the Cabinet Office on 17 December 2020 when she was working on the Covid taskforce.
"I am truly sorry that I did this," she said in a statement.
She said the drinks were held to mark her leaving the civil service, and that she has been cooperating with Sue Gray's investigation.
She said:
I have been cooperating fully with the Cabinet Office investigations and I do not want to preempt the findings of the investigation.

The specific facts of this event will be considered in the context of the Cabinet Office investigation. And I did not attend any events at number 10 Downing Street.
The former England and Manchester United right back Gary Neville has said "everybody should be raging at the government," as he revealed he has joined the Labour party.
Neville told the BBC's Political Thinking podcast: "I have joined the Labour Party in the last few days. I want to support Labour. I do believe that we need a progressive Labour Party, but one that actually not just looks after the left side; it has to come towards the centre."
He also used the podcast to attack Boris Johnson, who he is said was "doing great damage to the country".
Neville added: "This government is rancid and it's impacting them terribly," he tweeted. Neville who has more 5m Twitter followers said: "Boris Johnson is finished. We are going to see the long road to his tenure ending in the few months."
Mo Hussein, a former Conservative special adviser, has said Boris Johnson's apology over Downing Street lockdown parties "was quite late in the day".
He told Sky News:
It was a good thing that he made it, but it was also heavily caveated.

And if you are apologising, there's no real accountability in your apologising for the perception that what somebody might think or feel.

And then you're also saying it was a work event… there's a lot in there for people to try and unpack.

I think a lot of people, including lots of backbench MPs, are still quite jittery and quite nervous and with the risk of more and more revelations coming out, it does add to the sense that there isn't very much transparency and there isn't very much honesty around. And that is really, really sorely needed to build up confidence in the government.
The prime minister is belatedly learning that a few jokes cannot distract from a catalogue of ego-driven mendacity, writes Guardian columnist Simon Jenkins.
Here is an extract:
Johnson's problem has not been his lying but his inability to manage it, notably when found out. He has no spin doctor, and on Wednesday had to admit himself to spin A&E. His belief that a winsome and "authentic" personality could make up for a rotten command structure and third-class aides exploded on him.

His critics might accept that governing a pandemic would be a titanic test for even the most experienced of leaders, requiring superhuman skills of authority and persuasion, an ability to call on an unprecedented degree of public trust. But that is all the more reason not to imperil that trust. The prime minister has delivered some successes, including vaccination and the current holdout against lockdown.

But these successes have been swamped by one fiasco after another, leading to a widespread judgment that he is "not fit for purpose", not up to the job, a charge never made against Blair. A BBC vox pop on Wednesday night was brutal: "I may like him, but enough is enough."
You can read the full column here: No wonder deceit is dragging Boris Johnson under – he's not even a good liar
David Cameron's former communications chief in Downing Street Sir Craig Oliver has said he imagines Boris Johnson will be "deeply worried" about his position.
He told BBC Radio 4's World at One programme:
It's an incredibly volatile situation, [an] incredibly difficult situation. I imagine he will be deeply worried about his position.

Having said that, I think that what's going on at the moment is that the Cabinet and MPs are probably weighing up 'are we better with him or better without him'? At the moment there are a few unknowns and I think most of them are prepared to see what happens with Sue Gray.
He added:
The other thing, I think, that will be coming into their calculations is there's actually quite a long time to run on this parliament and replacing Boris Johnson with somebody new – they're going to be facing the cost of living crisis, any number of other big problems that are on the horizon.

Is replacing somebody at this time and putting them in that difficult circumstance actually going to be the best thing for them long term? So, I think that there's quite a sophisticated calculation that's going on at the moment.
This is from Liz Bates, political correspondent at Channel 4 News
The prime minister's lies have caught up with him and Covid still lurks waiting to deliver two red lines, writes John Crace in the latest Digested Week column.
Here is the extract we all deserve on the parties that weren't parties:
After lying low for a couple of days, Boris Johnson was forced out in to the open to appear at prime minister's questions and was finally obliged to provide an explanation for why he attended the Downing Street party on 20 May 2020.

First he gave a half-hearted, insincere apology for any wrongdoing people may have perceived him to make. Not for the breaches of the law and the lying to both parliament and the country.

Then he got to the details of the party. Or rather the party that was not a party. What we were asked to believe was that Johnson was one of the stupidest men alive, and had failed to notice he had been at a party until alerted to it by a leak to the press more than 18 months later.

Here was the chronology. He definitely hadn't authorised or read the email inviting everyone at No 10 to the party – why would he bother with anything sent by his principal private secretary? – and the "we" in the invitation in no way suggested it might have come from the prime minister.

Then, completely coincidentally, he had wandered downstairs to where the party was being held. Once there he had done a double-take and just assumed it was a "work event". After all it was completely normal to find trestle tables in the garden stacked with sausage rolls and booze and people getting pissed at work events.

That his wife had also been there with two friends had only reinforced his impression it was a work event. As had the complaints from some admin staff the next day at having to clear up the empties from the flowerbeds.

Alarmingly, his cabinet – with the exception of Rishi Sunak – are just as dim as they appeared quite comfortable with such obvious bollocks. No 10 was a special case, they said, because it was both a home and an office. Well, so is my mum's care home and no one had a party there.
Read the full column here: Digested week: Boris Johnson stumbles across a much-needed work event
The quickest of snaps from PA Media here.
Asked to respond to the announcement of Downing Street's apology, Buckingham Palace declined to comment.